John 9 – Follow In His Steps
Jesus told us that as faithful disciples we need to follow in His footsteps.  Many times while He was on earth He would say "follow Me", when calling His disciples (Matt. 9:9; Mk. 1:17; Jn. 1:43) and when He was explaining being His disciple (Lu. 9:23; 14:27; Jn. 10:27; 12:26 ).  Peter put it this way:  "For you have been called for this purpose, since Christ also suffered for you, leaving you an example for you to follow in His steps" (1 Pet. 2:21).  Jesus certainly gave us the perfect and complete model for godliness and faithfulness to God's mission.  In John 9, we see Jesus and His disciples as they continue to walk together, learning and ministering.  The disciples must have been learning a lot from this man Who was God in the flesh as they would journey together.  John has been sharing that journey with us and in Jn. 9 he continues to give us time references that help us to see the sequence of events.
The phrases "After these things" or "as He passed by" started with Jn. 5:1; 6:1, 22.  Then it continues:

7:1 – Jesus ends up going to Jerusalem for another Feast of Tabernacles
8:1 – He goes across the Kidron valley to the Mt. of Olives after the Feast and is teaching – He may have been staying there the whole week, as He had done during the last Passover six months later just before the Cross.  Note that the Pharisees approach Jesus with the woman in caught in questionable circumstances, perhaps with a conspiring lover
9:1 – Note more progress of time here, "as Jesus passed by".  He is likely still in Jerusalem, proceeding right after the confrontation of ch. 8:12.

John 7-10 is a story of "high intensity hatred"

7-10 provides many details about the opposition Jesus faced while being in Jerusalem leading up to His last Feast of Tabernacles
In the midst of such trials, Jesus still cared for His followers:

7:37 – refreshment
8:12 – rejoicing
9 – rest
10 – Protection and Provision by the Shepherd

This passage is ultimately culminated in Jn. 11:45-57 with the plot to kill Jesus that takes Him to the Cross
Dig In – Take time now to do a read-through of John 7-11 so that you can better grasp where we are in the Life of Christ.
The Blind Man Calls Their Bluff
Why did Jesus do miracles?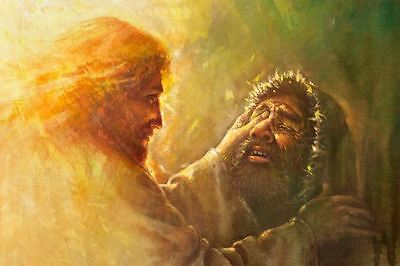 Jesus did miracles to meet human need, but they were also to be a "road sign" pointing observers in the right direction to discover the truth of God's Son, the Messiah
Jesus used miracles as an open opportunity for His message of spiritual truth to be heard
He also wanted to display His "credentials" as the Son of God, demonstrating that He is the promised Messiah.
The OT prophecies often spoke of the Messiah performing miracles.   Look Up Isa. 35:5-6 – "The blind receive their sight" is a Messianic truth about the Messiah performing miracles.
9:3 – the works of God are being displayed

God glorifies Himself – His purposes & glory often prevail over our will – Our righteous actions (amazingly) glorify Him
The blind man's condition is an opportunity for him & Jesus
9:4, "we" (NAS, ESV) likely isn't us (or the disciples) but Him
 9:5, Jesus is the Light of the World

As long as it is "daylight", it is time for Him to be productive – the "Light of the World" is currently on earth, Christ living in those who trust Him as Savior!
It is reasonable to see Jesus doing this miracle considering the context provided by John 8:12

Jn. 12:35, "Walk while you have the Light."

Light is the essential character of God, the most essential context: "let there be light", Gen. 1:3
---
9:1-13, Sorting Out the Drama
Outline the Passage
1, What brought about the healing? – The blind man had a problem, but so did the Pharisees.  But Jesus had a Mission
2-5, The purpose for blindness – Jesus points out God's higher purpose for the man's helpless condition. His sin will cause him death, but not the blindness.
6-7, The power that can heal
8-13, The perplexity of the people who witnessed the healing

 Why, why, why…

Popular opinion of that day would place blame for physical defects/illness on the person's sin – The disciples' naturally thought there was a theological problem…
Since the Fall, God has sought to regain fellowship with the crowning accomplishment of His precious creation- Gen. 3:16… Our frailty turns us back to the Creator – "that the works of God…" As difficulties bring us back to Him, we then seek to serve Him
Sin does cause suffering – Jn 5:14; Num. 12; 1 Cor. 11:30; Jas. 5:15
But not always – Consider Job; also see 2 Cor. 12:7; Gal 4:13
Jesus refuted the idea that personal sin causes suffering – Sin brought about death, iniquity brought about suffering
More questions…

What's important is Who, not What   
Why spit & mud?  There was no magical power in the mud. Jesus often used some type of object in His teaching – for example, I am the Great Shepherd, probably surrounded by people who owned sheep
Background:  The pool of Siloam has a special relationship to the Feast of Tabernacles. It is a fairly large pool located outside the SE corner of Jerusalem in the City of David, it provided all of the fresh water inside Jerusalem.  It gets its water from the Gihon spring in the Kidron valley through the amazing Hezekiah Tunnel cut through several hundred feet of solid rock
Note that Jesus healed the blind on other occasions – Matt. 9:27-31; Mk. 8:22-26
---
Jn.9:14-34, Interrogation
The Jewish Leaders wanted to be "in the news"

They didn't have a desire for truth – they sought only pretense & self-preservation
8-12, Neighbors & observers were a little more objective and raise questions – "is this really the one who was blind?"
15-17 , ignoring the fact of the miracle, the Pharisees question the man
18-23 , then they question the man's parents, and they give a quick response:  "Ask him!"
24-34, and then the Pharisees question the man a second time!

They proudly say "Honor God, tell the truth!"

Their predisposed opinion assumed Jesus was a sinner
The man says he has no opinion, but just one fact for sure: "I was blind, now I see"!
John Newton wrote Amazing Grace centered on this great truth

26, What did Jesus do to accomplish this miracle? – the Jews are looking for a physical explanation
28,  the Jews try to gain the high ground by saying they follow Moses, and then accuse the healed man saying maybe he's a disciple of Jesus

30, "here is the amazing thing…" – the blind man stands his ground
Amazing grace
How sweet the sound
That saved a wretch like me
I once was lost
But now I'm found
Was blind, but now I see
34, they "put him out", inferring they threw him out of the Temple permanently, he could no longer worship with his fellow Jews – they wanted to stir up the fear of the people – Jn 7:13; 12:42
---
Undeniable Facts
Truth & Belief

No, really… I'm the guy!, 9:25, 30 – this man speaks up for what Jesus did for him, there is no doubt that He trusts the Savior
Jesus responds, "I am the One!", v37
Willful unbelief, v41 – Jesus condemns the Jews self-centered piety and rejection of God's Truth – they were blind
Skeptics today use the same avoidance and distraction tricks –

They set false standards
They kept claiming to need more evidence
Their research was subjective and biased
They rejected facts
They protected selfish interests at all cost

For the healed man, his belief is followed by worship and public confession, v38

Jesus sought the man out to confirm his faith, v35 – he hadn't known Who Jesus was, but now He "knows"

The Jews – are we blind too??

Well, uh, yes….
If they understood being lost, being "cast out into outer darkness", and if they cried out for God's  light, they wouldn't be so surprised
They thought their "dark" view of the world was enlightened, but their view rejected the Light.
---
For Further Study…
What are some frequently debated topics in Christian circles?
The disciples asked a theological question about the man born blind. How would you explain Jesus' reply in your own words?
What was Jesus' main concern when He saw the blind man? What does this tell you about His priorities?
Which are you more life – the disciples who wanted to debate the cause of the man's blindness – or Jesus Who wanted to take care of the man's problem? Why?
Like the woman at the well, the blind man went through several stages of understanding Who Jesus was. Identify:
How was it possible that the religiously trained leaders were so blind to Who Jesus was?
Restate in your own words Jesus' description of His mission in 9:39. What did He mean?
What might be one of your spiritual blind spots? How can you be receptive to Jesus' illumination in this area?
How can you act more life Jesus this week in concern for those who are spiritually blind?
---